Congratulations on your upcoming wedding! "The Ultimate Wedding Guide" is here to assist you at every step of your planning journey. This comprehensive resource provides valuable insights, inspiration, and practical advice to make your special day extraordinary.
Our guide offers a wealth of information to assist you in planning every aspect. From budgeting and vendor selection to attire, ceremony, reception, and capturing memories, we have you covered. Get ready for a memorable wedding with our comprehensive advice.
We understand that planning a wedding can feel overwhelming at times, but with "The Ultimate Wedding Guide" by your side, you'll gain the confidence and knowledge to make informed decisions. Our aim is to simplify the process, spark your creativity, and ensure that every detail reflects your unique style and love story.
Throughout this guide, you'll find expert tips, real-life examples, and a range of options to suit various budgets and preferences. Feel free to customize and adapt the suggestions to create a wedding that truly reflects your personality and desires.
So, whether you're dreaming of an intimate backyard celebration, a romantic destination wedding, or a grand formal affair, let "The Ultimate Wedding Guide" be your trusted companion as you embark on this incredible journey. Get ready to turn your wedding vision into a breathtaking reality!
Preparing For Your Wedding
Establish Your Wedding Vision
Take some time to envision your dream wedding. Consider the overall theme, style, and atmosphere you want to create. Think about the season, venue, and colors that resonate with you. This will serve as the foundation for all your planning decisions.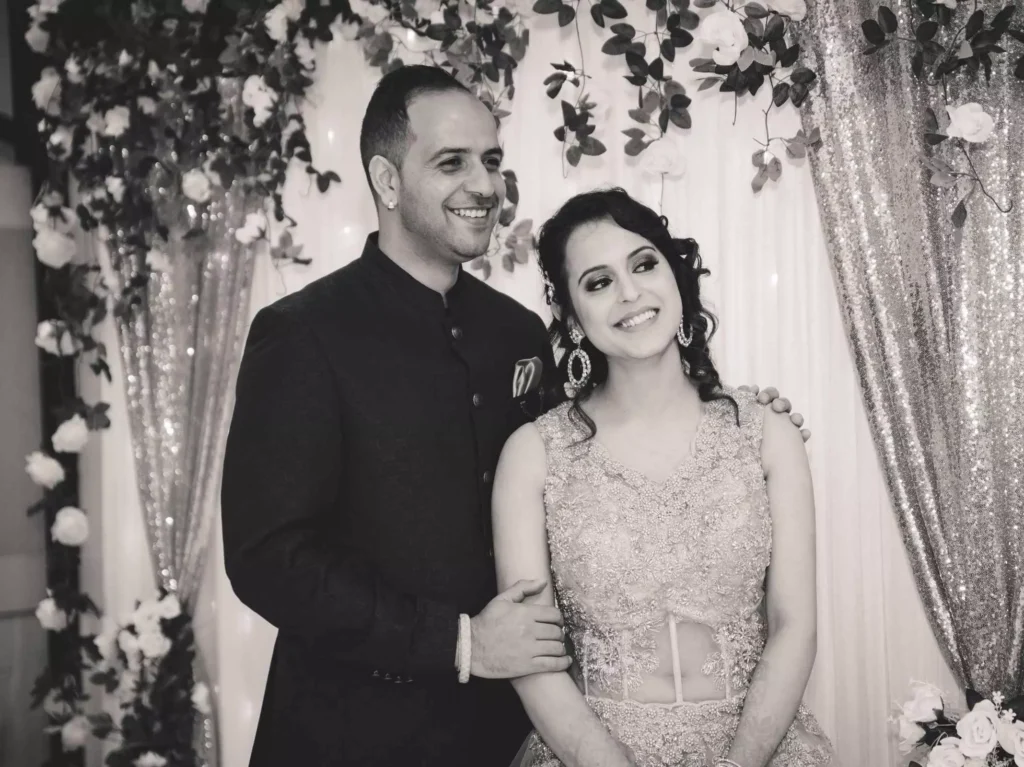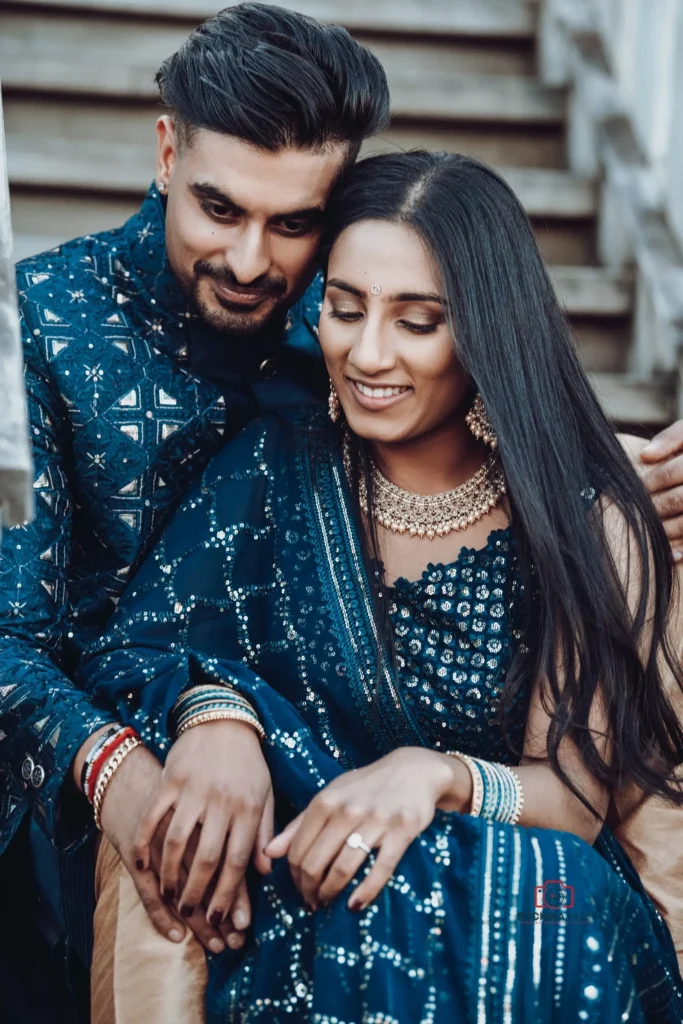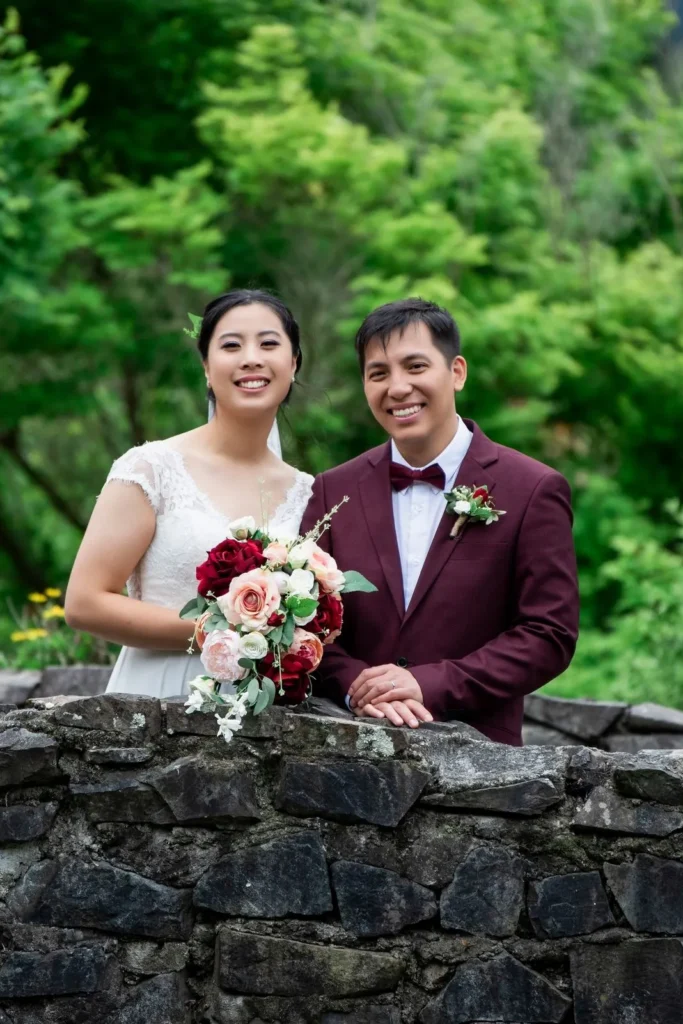 Set a Budget
Determine your wedding budget early on to help you make informed choices throughout the planning process. Discuss with your partner and any contributors to establish a realistic budget that aligns with your financial situation. Consider allocating funds for different aspects such as venue, catering, attire, decor, and entertainment.
Create a Timeline
Develop a timeline outlining key milestones and deadlines leading up to your wedding day. This will help you stay organized and ensure you accomplish tasks in a timely manner. Consider booking essential vendors, securing your venue, and sending out save-the-date cards.
Assemble Your Wedding Team
Research and select a wedding planner, if desired, to help you navigate the planning process. Choose reliable vendors, such as photographers, caterers, florists, and musicians, who align with your vision and budget. Don't forget to schedule appointments for dress fittings, hair and makeup trials, and any pre-wedding beauty treatments.
Gather Inspiration
Explore wedding blogs, magazines, and social media platforms for inspiration. You can explore our wedding gallery. Create a digital or physical mood board to collect images, ideas, and details that inspire you. This will guide your decisions when it comes to decor, floral arrangements, stationery, and more.
Remember, the key to successful wedding planning is to stay organized, communicate openly with your partner and loved ones, and enjoy the journey. Take one step at a time, and don't hesitate to seek assistance when needed. Your wedding day will be a reflection of your love story, so savor every moment of this special time.
Wedding Themes and Styles
Vintage Glamour
Step back in time with a vintage glamour wedding. Embrace the elegance of the past with lace gowns, antique brooches, and crystal chandeliers. Incorporate vintage elements through table settings, retro inspired invitations, and a classic car getaway.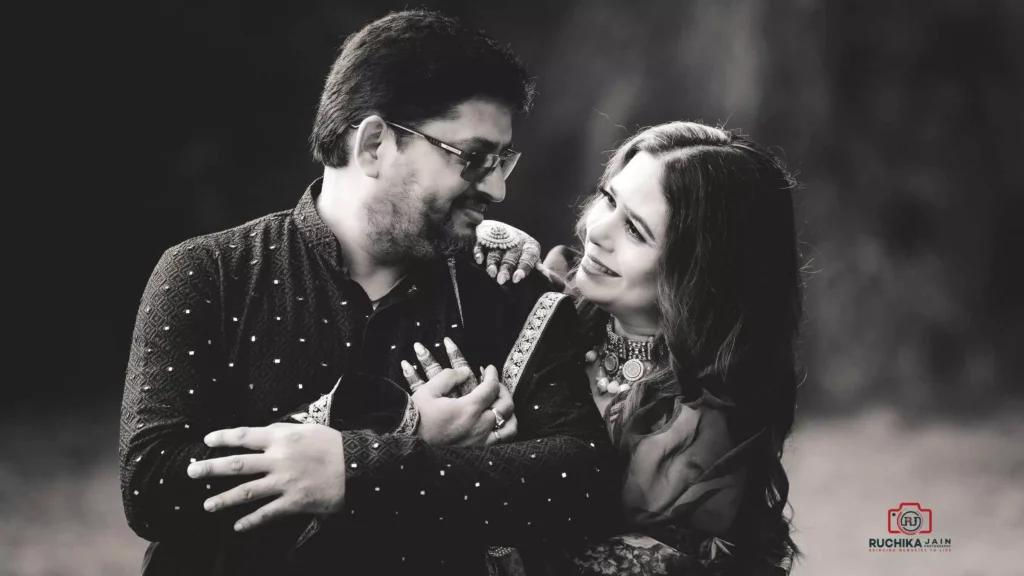 Rustic and Romantic
Embrace the charm of the countryside with a rustic and romantic wedding. Think barn venues, wildflower bouquets, and soft, natural colour palettes. Incorporate elements like wooden signs, burlap accents, and fairy lights for a whimsical touch.
Classic Elegance
A classic and elegant wedding never goes out of style. Opt for timeless elements such as black and white colour schemes, intricate lace details, and formal attire. Choose a grand ballroom or a historic venue to enhance the sophisticated ambiance.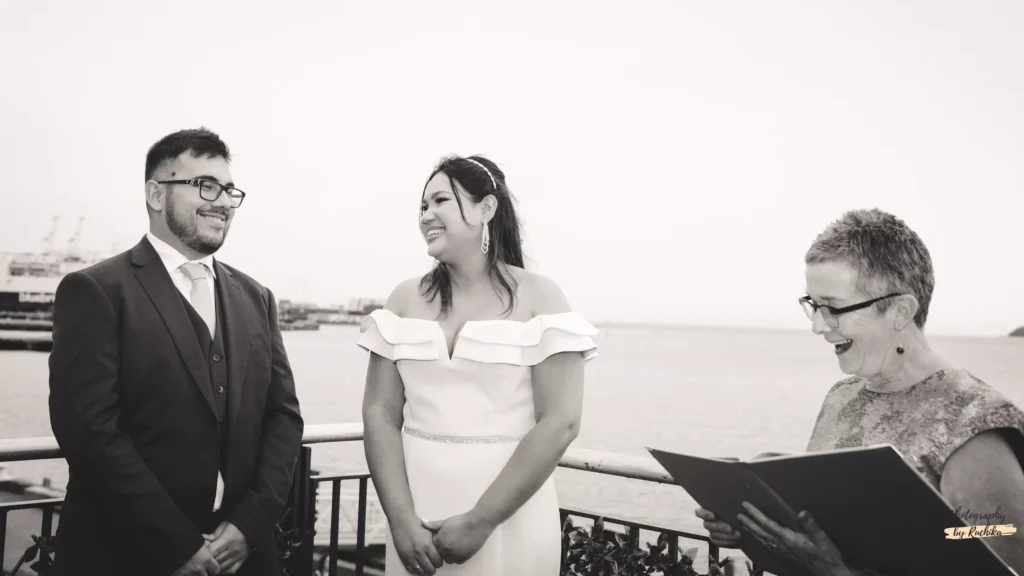 Bohemian Chic
For a free-spirited and laid-back vibe, consider a bohemian chic wedding. Play with floral crowns, flowing dresses, and vibrant colours. Create arelaxed atmosphere with outdoor ceremonies, teepee lounges, and dreamcatcher decorations.
Modern Minimalism
If you appreciate sleek lines and clean aesthetics, a modern minimalist wedding might be perfect for you. Focus on simplicity and sophistication with monochromatic colour schemes, geometric shapes, and minimal décor. Opt for modern venues with architectural details.
Remember, your wedding theme should be a reflection of your personal style andpreferences. Consider what resonates with you as a couple and choose a theme that will create a memorable and cohesive experience for you and your guests.
Wedding Attire and Beauty
Bridal Gowns
The wedding gown is the centerpiece of the bride's attire. Explore various styles, from traditional ball gowns to sleek mermaid silhouettes, and everything in between. Consider the fabric, neckline, and embellishments that best suit your body type and preferences.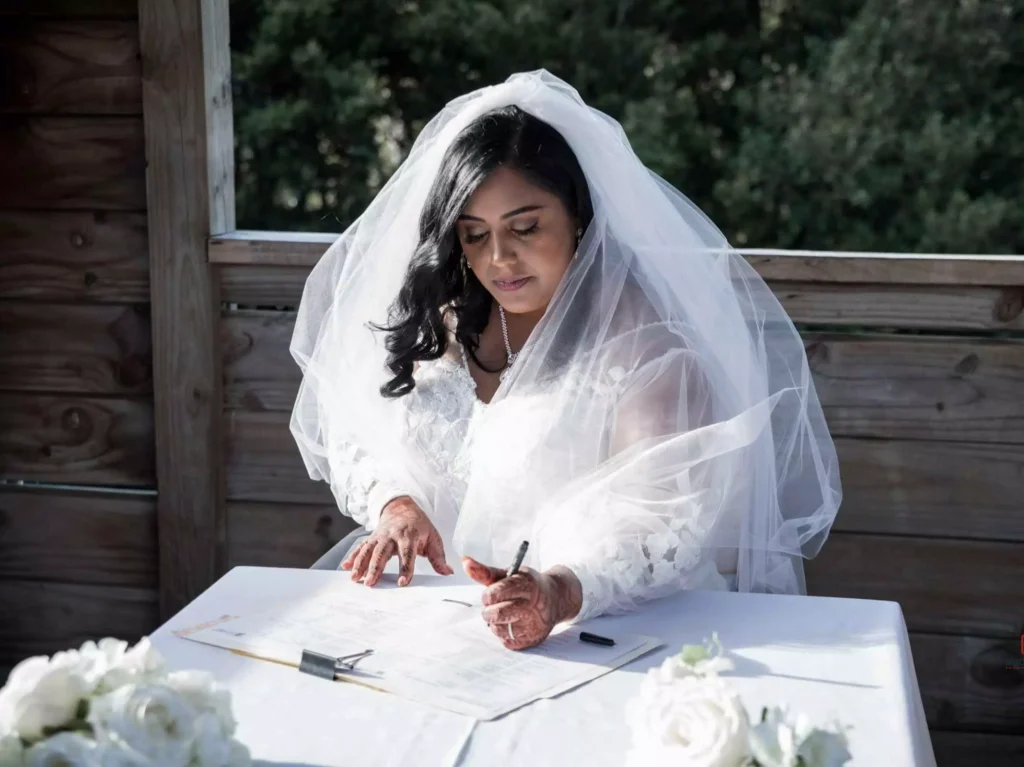 Groom's Attire
The groom's attire should complement the overall wedding style. Whether it's a classic tuxedo, a tailored suit, or a more casual ensemble, choose an outfit that reflects your personality. Pay attention to details like accessories, boutonnieres, and tie options.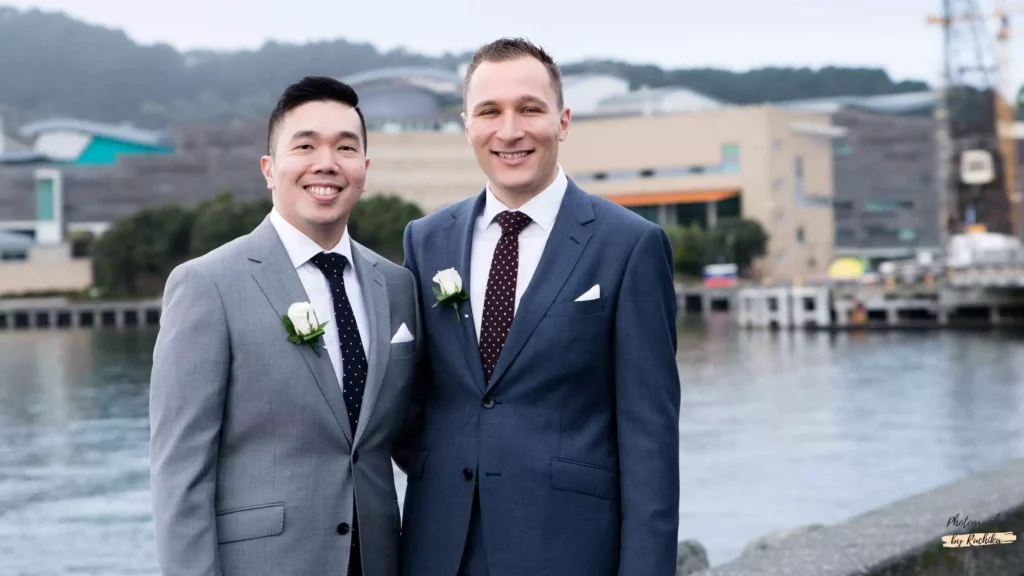 Bridesmaids and Groomsmen
Selecting attire for your bridesmaids and groomsmen is an opportunity to incorporate your wedding color palette and theme. Coordinate their dresses or suits with your overall vision, ensuring everyone looks cohesive and stylish. Consider mix-and-match styles or varying shades for a unique touch.
Hair and Makeup
On your wedding day, you'll want to look and feel your best. Hire a professional hair and makeup artist who can bring your vision to life. Consider a trial session to ensure you achieve the desired look, whether it's a natural glow or a glamorous makeover.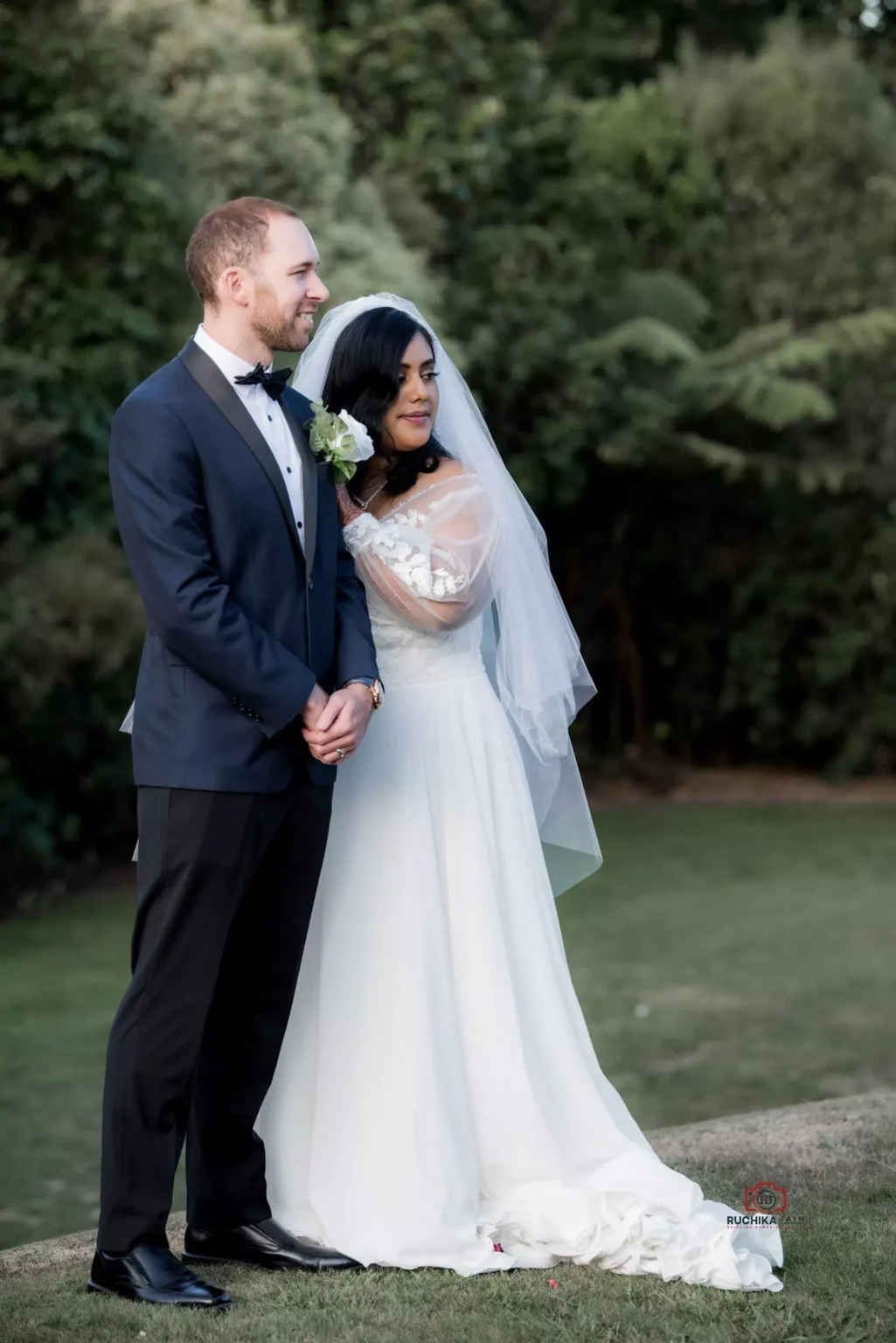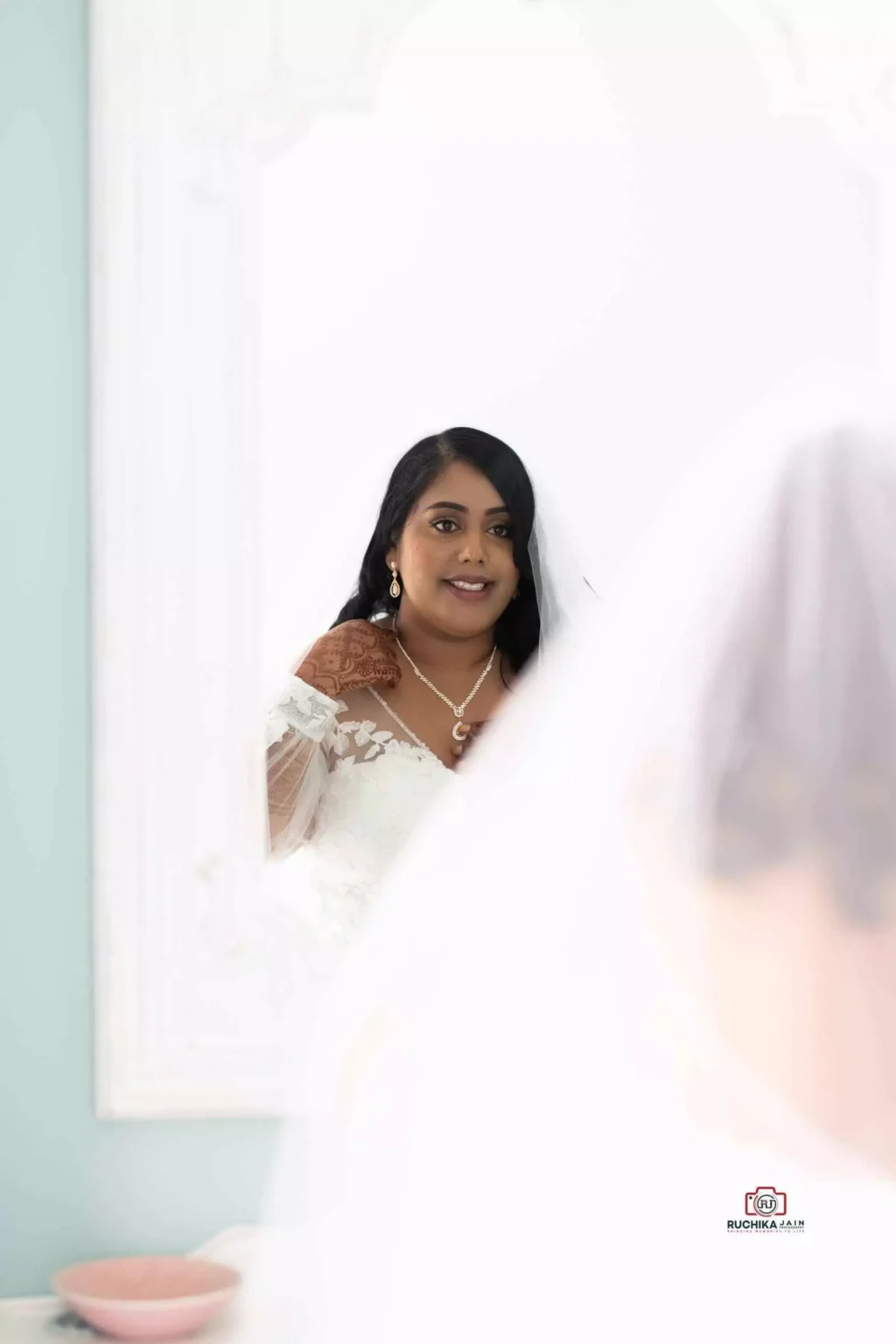 Accessories and Finishing Touches
Complete your wedding day look with carefully chosen accessories. From veils and headpieces to jewelry and shoes, each detail should enhance your overall style. Don't forget about the groom's accessories too, such as cufflinks, pocket squares, and stylish shoes.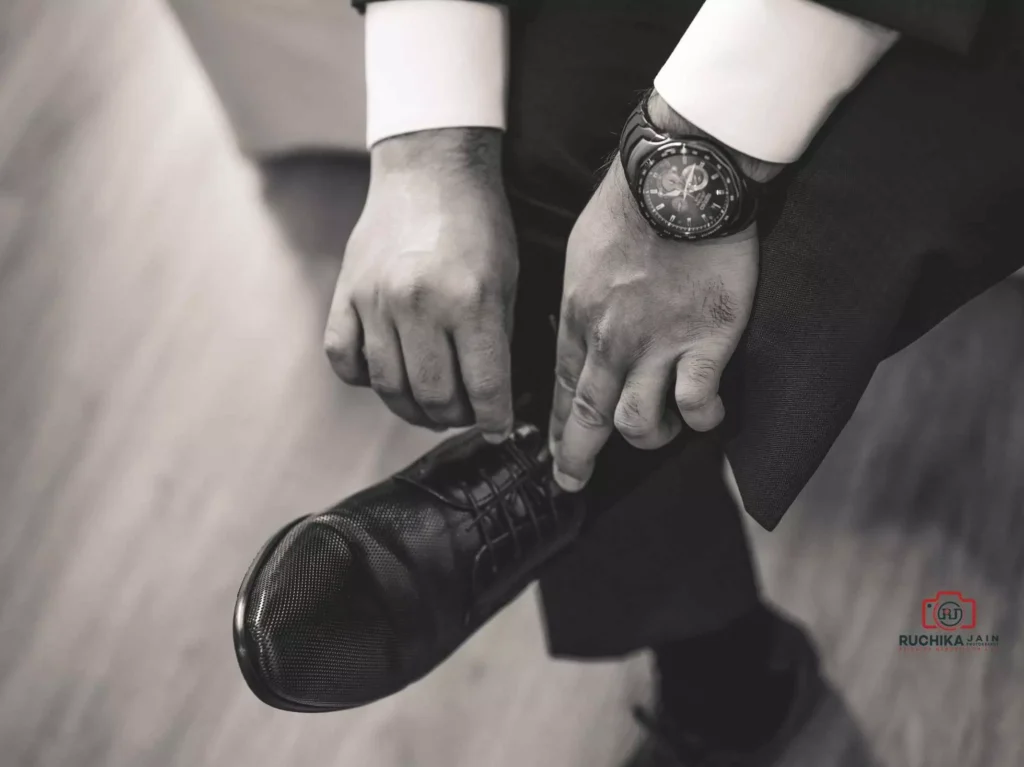 Ceremony and Reception
Ceremony Venue
Choose a ceremony venue that reflects your vision and sets the right ambiance. Options range from romantic outdoor settings like gardens or beaches to traditional indoor locations like churches or banquet halls. Consider factors such as capacity, accessibility, and the overall atmosphere you desire.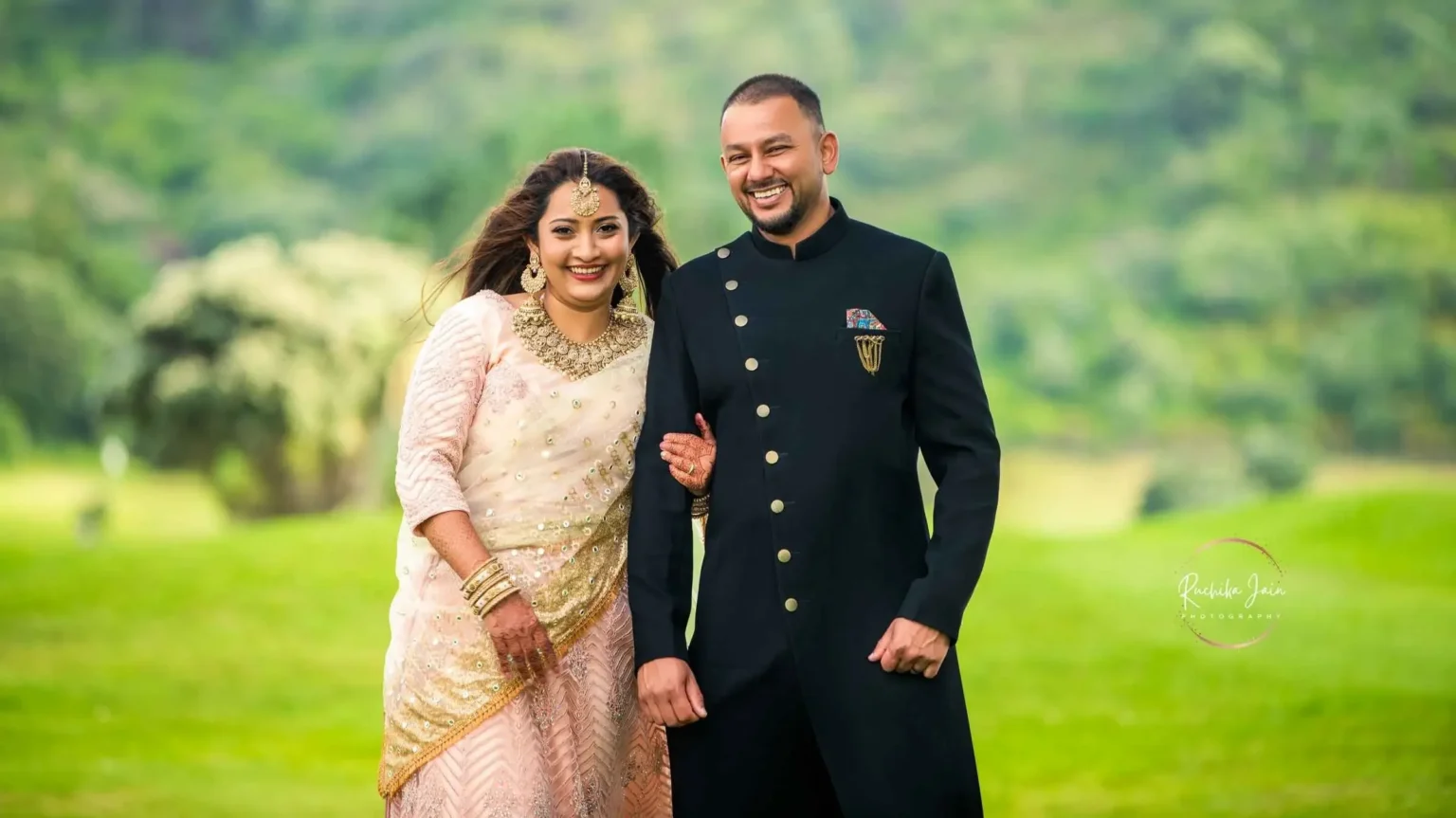 Ceremony Décor
Enhance your ceremony space with carefully selected decor elements. From stunning floral arrangements to aisle runners and decorative arches, these details can transform the venue into a picturesque backdrop for your exchange of vows. Incorporate your wedding colours and theme to create a cohesive look.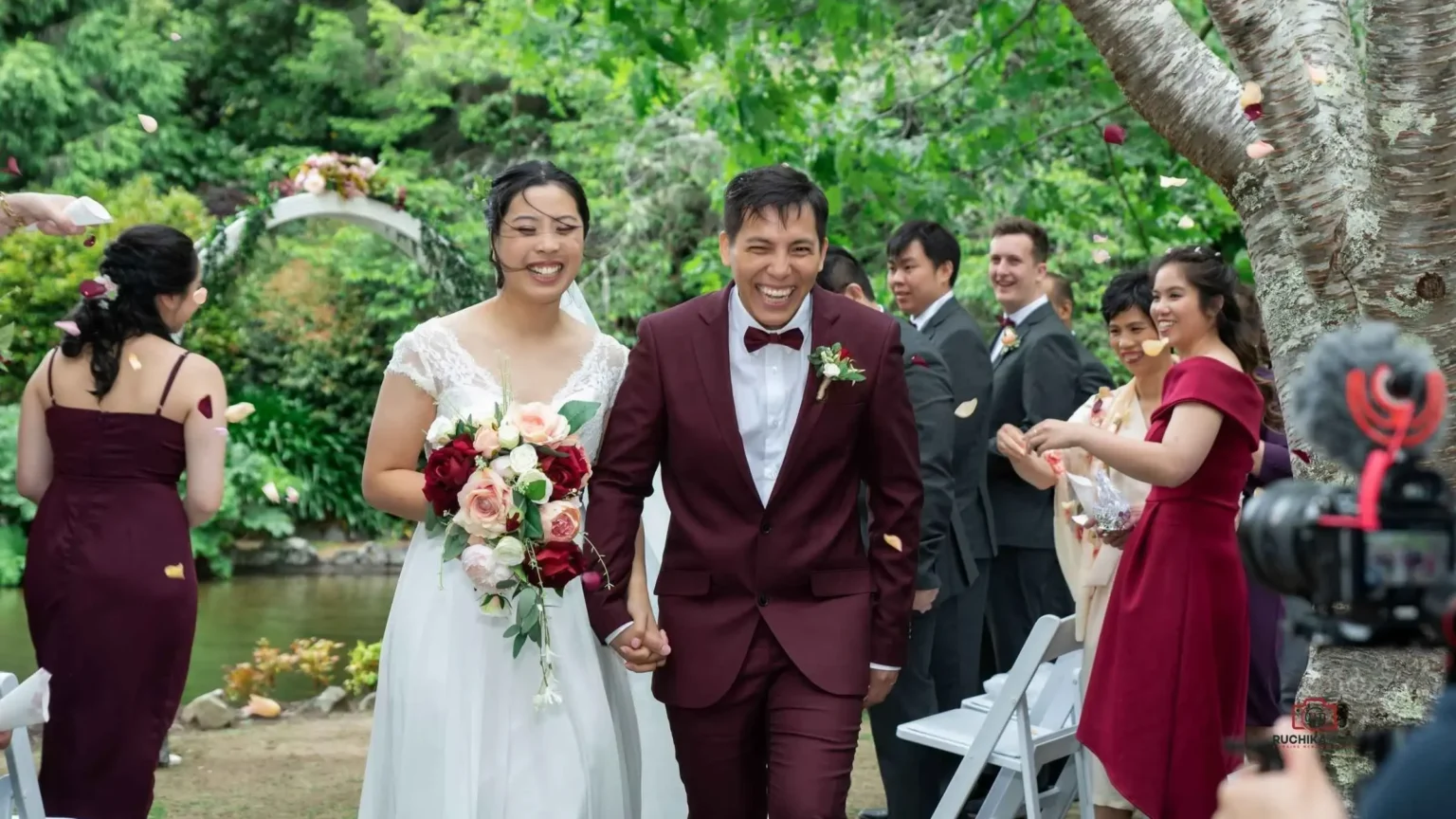 Ceremony Officiant
Select an officiant who will lead your ceremony with warmth and meaning. Whether it's a religious leader, a civil celebrant, or a close friend or family member, choose someone who understands your love story and can craft a personalized ceremony that reflects your values and beliefs.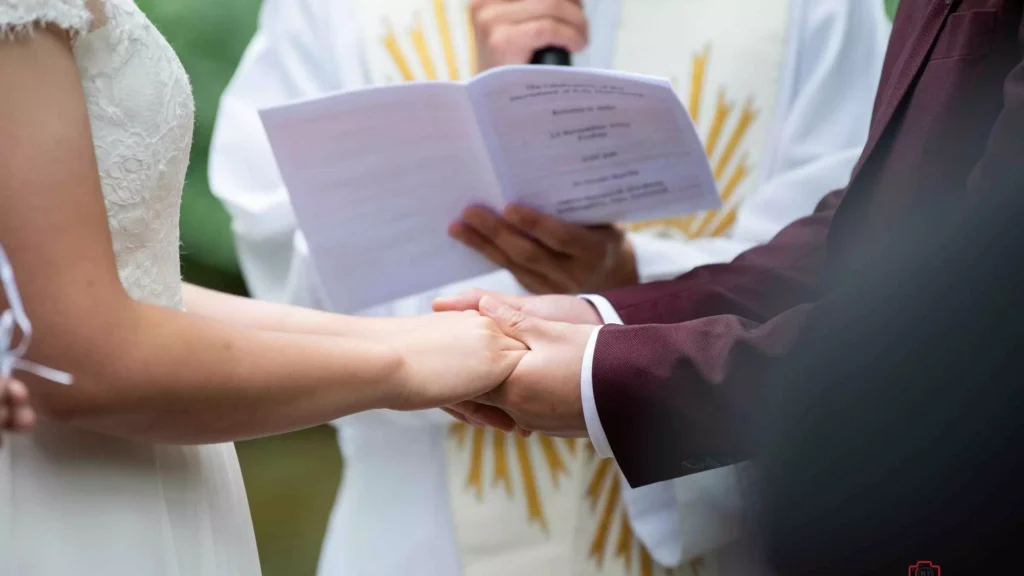 Reception Venue
The reception venue sets the tone for your post-ceremony celebration. Consider factors such as capacity, location, catering options, and amenities. Whether it's a grand ballroom, a rustic barn, or an intimate garden, find a venue that aligns with your style and provides a comfortable space for your guests.
Reception Décor and Entertainment
Transform your reception space into a reflection of your love story and personal style. From table centerpieces and lighting to seating arrangements and dance floors, every element should create a welcoming and festive atmosphere. Incorporate entertainment options like live bands, DJs, or photo
booths to keep your guests entertained throughout the evening.
Remember, your ceremony and reception should be a reflection of your unique love story. Take the time to plan each detail with care, ensuring that the atmosphere, décor, and entertainment align with your vision. By creating a memorable experience for you and your guests, your wedding day will be truly unforgettable.
Photography and Videography
Finding the Right Photographer and Videographer
Start your search by reviewing portfolios, websites, and online reviews of professional photographers and videographers. Look for their style, creativity, and ability to capture emotions.
Discussing Your Vision and Expectations
During consultations, communicate your vision and expectations to your chosen photographer and videographer. Share your preferred style (e.g., documentary, traditional, or artistic) and any specific shots or moments you want them to capture. Clear communication will help them understand your needs and deliver a result that aligns with your vision.
Engagement Sessions
Great opportunities to get comfortable in front of the camera, build rapport with your photographer, and capture beautiful pre-wedding moments. The engagement session also allows the photographer to understand your dynamic as a couple, ensuring they can better capture your personalities on the wedding day.
Shot List and Timeline
Work with your photographer and videographer to create a shot list and timeline for the day. Discuss the must-have shots, important moments, and any specific family or cultural traditions you want them to document. This will help ensure that no important moment is missed and that you have a comprehensive
collection of memories from your wedding day.
Unobtrusive Documentation
Opt for photographers and videographers who have experience with unobtrusive documentation. They should be skilled in capturing candid moments and emotions without being overly intrusive. This allows you to fully enjoy your wedding day while knowing that every special moment is being beautifully captured.
At Ruchika Jain Photography, we invite you to have a discussion for your wedding photoshoot. We are offering both, photography and videography services. Get in touch!
Wedding Stationary and Invitations
Save-the-Dates
Start by sending save-the-date cards or digital invitations to inform your guests of your upcoming wedding date. Include the names of the couple, the date, and a general location. It's an opportunity to showcase your wedding theme or color scheme and create excitement among your guests.
Wedding Invitations
Your wedding invitations are the main event. They should reflect your wedding style and convey all the necessary details. Include the names of the hosts, the couple's names, the date, time, and location of the ceremony and reception. Don't forget to mention any dress code or special instructions.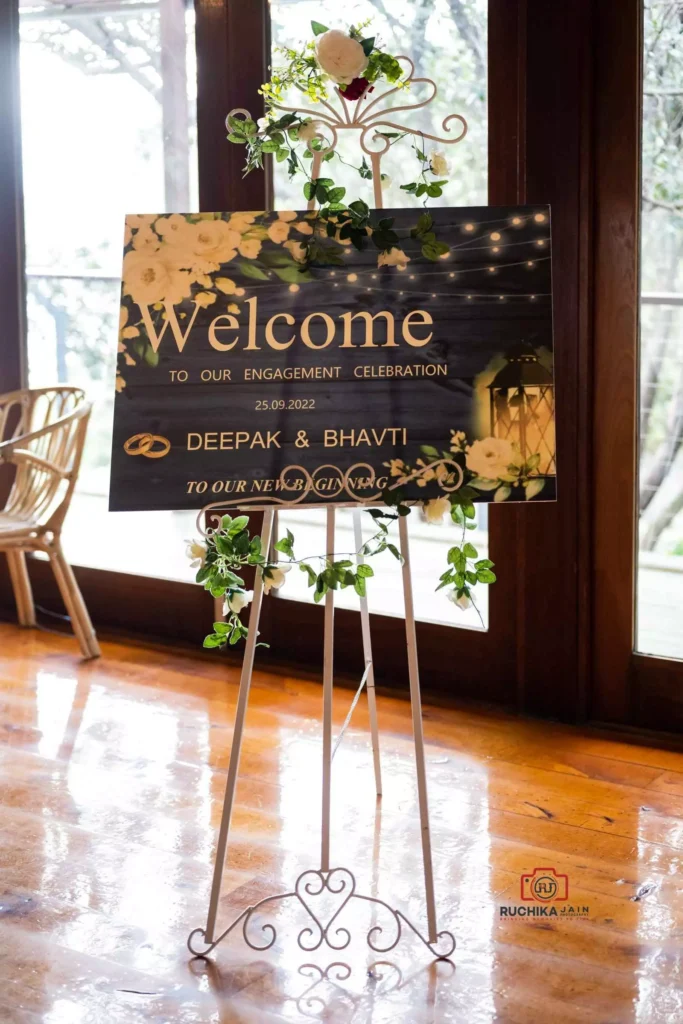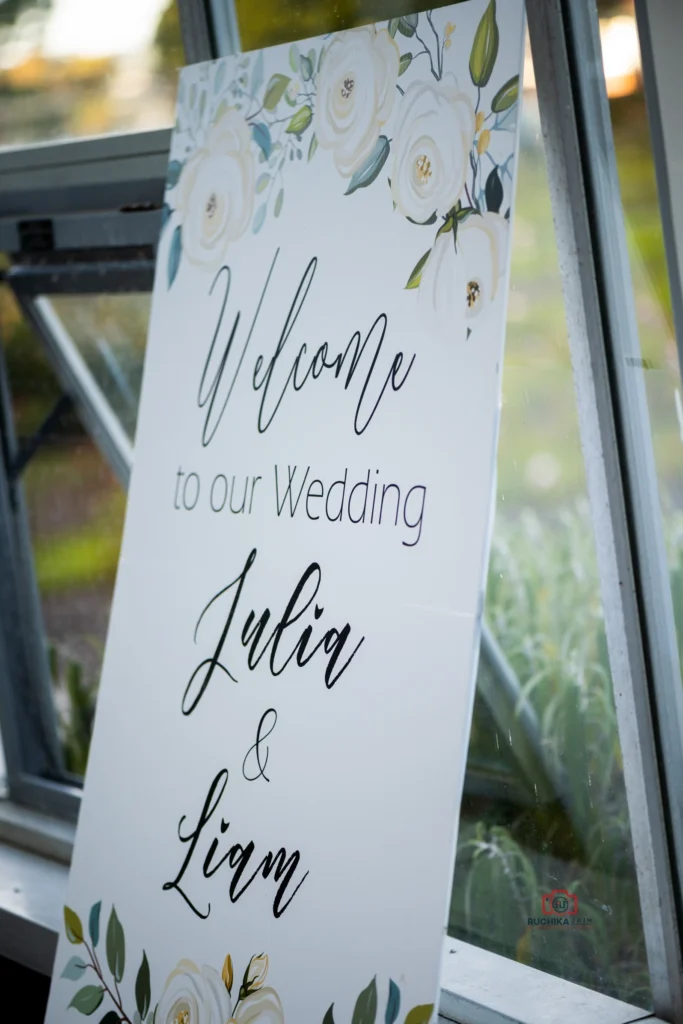 RSVP Cards
Enclose RSVP cards with your wedding invitations to make it easy for guests to respond. Include a pre-addressed and stamped envelope for their convenience. Set a deadline for responses to help with your wedding planning and ensure an accurate guest count.
Accommodation and Transportation
If you have out-of-town guests, provide information about accommodation options and transportation arrangements. Include nearby hotels, discounted rates, and any shuttle services you may have arranged. This will help guests make travel plans with ease.
Wedding Programs
Create wedding programs to guide your guests through the ceremony. Include the order of events, the names of the wedding party, and any special readings or rituals. It's a beautiful keepsake that also helps guests feel engaged in the ceremony.
Menu Cards and Place Cards
For a seated reception, consider printing menu cards to display at each table, showcasing the meal options. Place cards are essential for assigned seating. They can be elegantly designed to complement your overall theme and make it easy for guests to find their seats.
Thank-You Cards
After the wedding, express your gratitude to your guests by sending personalized thank-you cards. Include a heartfelt message and mention the specific gift or gesture you are thankful for. Sending these cards promptly shows your appreciation for their presence and support.
Remember, wedding stationery and invitations provide a glimpse into your wedding day and help create a cohesive theme. Pay attention to details, choose quality materials, and consider working with a professional stationer or designer to bring your vision to life.
Wedding Ceremony
The wedding ceremony is a deeply meaningful and cherished part of your special day. It's a time when you and your partner publicly declare your love and commitment to each other. In this section, we'll explore various aspects of the wedding ceremony to help you plan a memorable and personalized experience.
Choosing the Venue
Select a venue that resonates with your vision for the ceremony. It could be a religious setting, a picturesque outdoor location, or a unique indoor space. Consider the ambience, seating capacity, and logistical aspects to ensure a comfortable experience for you and your guests.
Officiant
Choose an officiant who reflects your beliefs and values. It could be a religious leader, a civil celebrant, or someone close to you who is authorized to perform weddings. Meet with the officiant to discuss your ceremony preferences and personalize the vows and readings.
Ceremony Program
Design a ceremony program that outlines the sequence of events and introduces the key participants. Include the names of the couple, the officiant, the wedding party, and any special readings or rituals. It also serves as a keepsake for your guests.
Processional
Plan the processional, which is the entrance of the wedding party. Decide on the order in which the members will enter, including the couple, parents bridesmaids, groomsmen, and flower girl/ring bearer. Choose music that sets the desired tone for the ceremony.
Exchange of Vows and Rings
The exchange of vows and rings is a central moment in the ceremony. Write personalized vows that express your love, promises, and aspirations for the future. Choose rings that symbolize your commitment and exchange them during this heartfelt moment.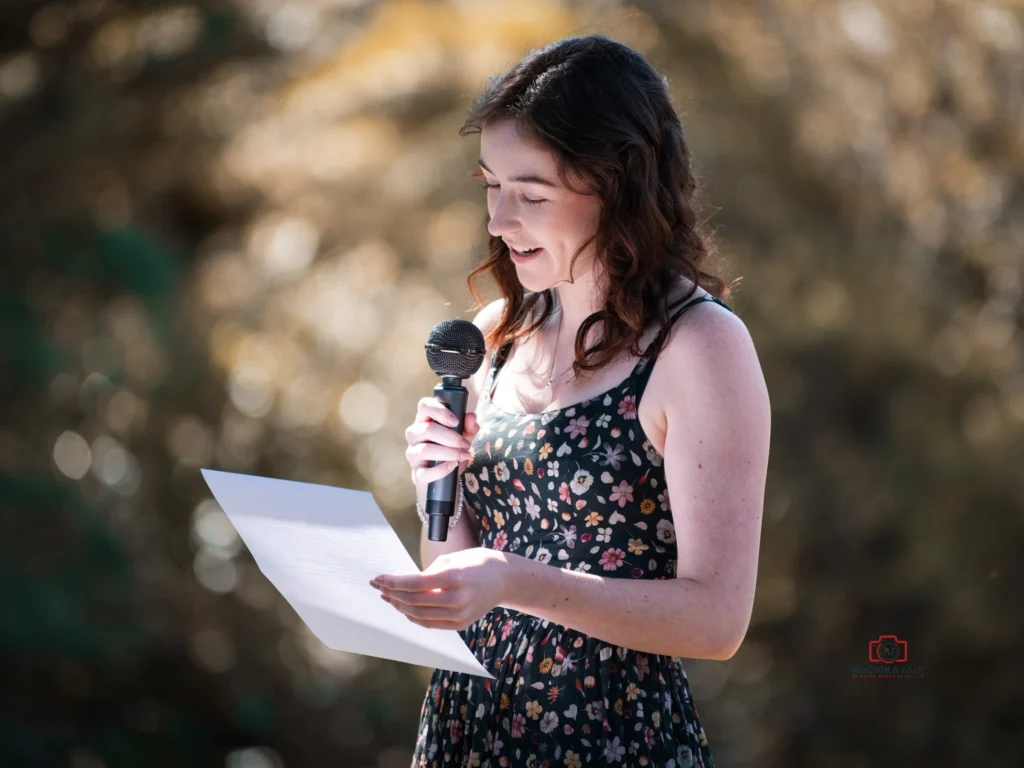 Readings and Rituals
Incorporate meaningful readings or rituals into your ceremony to add depth and personalization. These could include poems, passages from religious texts, or cultural traditions that hold significance for you as a couple. Involve close friends or family members in these readings if desired.
Unity Ceremony
Consider including a unity ceremony, such as lighting a unity candle, pouring sand into a unity vessel, or tying a love knot. This symbolic act represents the merging of your lives and families and serves as a powerful visual representation of your commitment.
Music Selection
Choose music that resonates with your emotions and enhances the ambience of the ceremony. Select pieces for the processional, recessional, and any other significant moments during the ceremony, such as signing the marriage certificate or a musical interlude.
Personal Touches
Infuse personal touches throughout the ceremony to make it uniquely yours. This could include incorporating sentimental items, sharing personal anecdotes, or involving loved ones in special roles. Embrace traditions or create new ones that reflect your love story.
Recessional
Plan the recessional, which marks the joyful exit of the newly married couple and the wedding party. Choose an upbeat and celebratory song to set a festive tone as you make your way back down the aisle.
Remember, the wedding ceremony is a beautiful expression of your love and commitment. Take the time to plan and personalize each element to create a ceremony that truly reflects your unique relationship.
Wedding Reception
Venue Selection
Choose a reception venue that aligns with your vision and naccommodates your guest counts comfortably. Consider factors such as aesthetics, capacity, location, and amenities. Whether it's a grand ballroom, a rustic barn, or a scenic outdoor space, find a setting that reflects your style.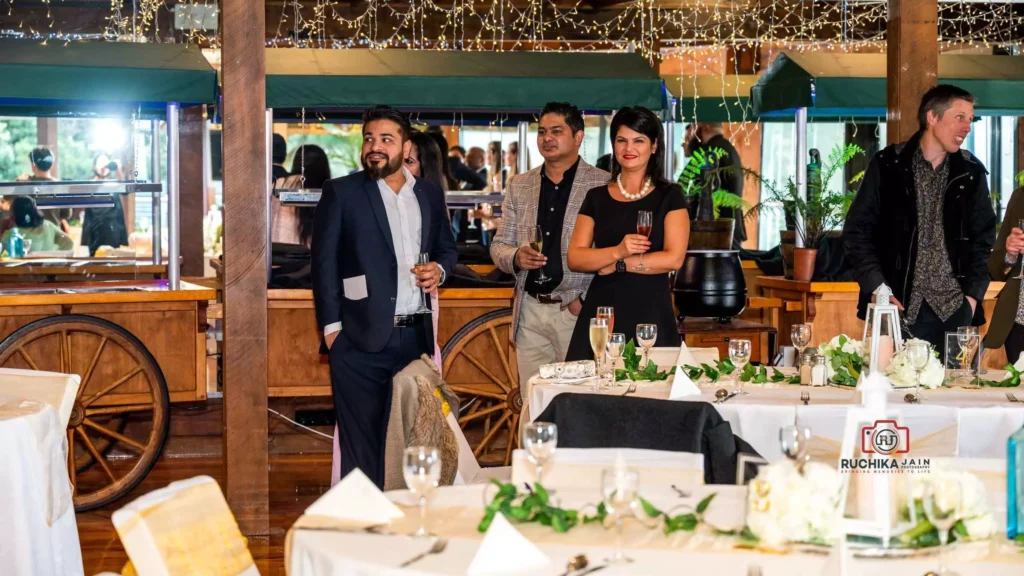 Reception Timeline
Create a detailed reception timeline that outlines the sequence of events, from the entrance to the last dance. Include the cocktail hour, dinner service, speeches, toasts, cake cutting, special dances, and any other planned activities. This will help ensure a smooth flow and keep your guests engaged.
Reception Décor and Theme
Design a cohesive and visually appealing reception space that complements your wedding theme. Select centrepieces, table linens, lighting, and other décor elements that create the desired atmosphere. Incorporate personal touches, such as photo displays or unique elements that represent your love story.
Seating Arrangements
Plan the seating arrangements to ensure a comfortable and enjoyable experience for your guests. Consider seating groups based on relationships, interests, or a mix of both. Provide place cards or a seating chart to guide guests to their assigned tables.
Reception Menu
Curate a delicious and satisfying menu that caters to various dietary preferences and restrictions. Collaborate with your caterer to create a wellbalanced meal, including appetizers, main courses, desserts, and beverages. Incorporate special touches, such as signature cocktails or a late-night snack station.
Wedding Cake and Desserts
Select a wedding cake or alternative desserts that align with your taste and style. Consider unique flavours, designs, and presentation ideas. Whether it's an elaborate tiered cake, a dessert table, or individual treats, ensure there's a sweet finale to your reception.
Entertainment
Choose entertainment that reflects your personality and keeps your guests entertained throughout the reception. This could include hiring a live band, a DJ, or even a string quartet for the cocktail hour. Plan for moments like the first dance, parent dances, and encourage guests to hit the dance floor.
Speeches and Toasts
Coordinate with those who will be delivering speeches or toasts during the reception. Provide guidelines and time limits, ensuring that the speeches are heartfelt and engaging. It's also a good idea to express your gratitude to your guests and share a few words of appreciation.
Interactive Elements
Incorporate interactive elements that encourage guest participation and create memorable experiences. This could include a photo booth, a guest book station, lawn games, or a dedicated space for socializing. These elements foster connection and add a fun factor to your reception.
Speeches and Toasts
Coordinate with those who will be delivering speeches or toasts during the reception. Provide guidelines and time limits, ensuring that the speeches are heartfelt and engaging. It's also a good idea to express your gratitude to your guests and share a few words of appreciation.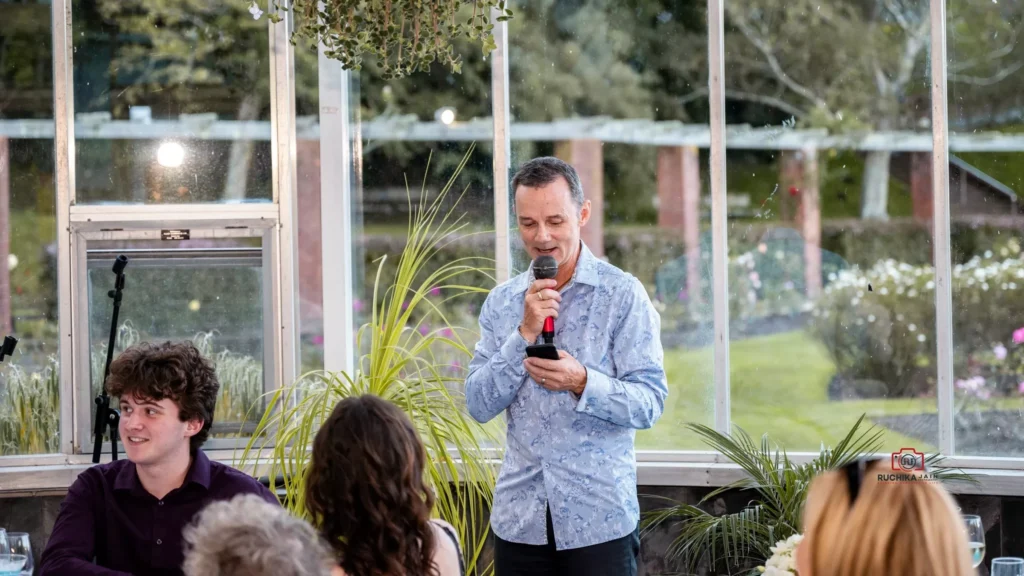 Interactive Elements
Incorporate interactive elements that encourage guest participation and create memorable experiences. This could include a photo booth, a guest book station, lawn games, or a dedicated space for socializing. These elements foster connection and add a fun factor to your reception.
Farewell and Send-off
Plan a memorable send-off as you bid farewell to your guests. Coordinate a grand exit with sparklers, confetti, or a vintage car getaway. This final moment serves as a memorable conclusion to your wedding reception.
Remember, your wedding reception is a celebration of your love and the beginning of a
new chapter. Plan it with care and infuse it with personal touches to create an
unforgettable experience for you and your guests.
Post Wedding Activities
After the wedding day has come to a close, there are still a few important post-wedding activities to consider. This section will guide you through these essential tasks to ensure a smooth transition into married life.
Thank You Notes
Express your gratitude to all those who attended your wedding and gave you gifts. Take the time to personalize each thank-you note and mention the specific gift or act of kindness you received. Handwritten notes add a personal touch and show your genuine appreciation.
Gift Organization
Keep track of all the gifts you received and create a system to organize them. This will help you when writing thank-you notes and also allow you to easily identify any missing items. Consider using a gift registry checklist or a dedicated spreadsheet for this purpose.
Wedding Vendor Reviews
Share your feedback and reviews for the wedding vendors you worked with. This can help future couples make informed decisions and show appreciation for exceptional service. Leave reviews on platforms like wedding websites, social media, or vendor-specific review sites.
Name Change and Legal Documentation
If you plan to change your name after marriage, initiate the process of updating your legal documentation. This includes obtaining a marriage certificate, and updating your driver's license, passport, social security records, bank accounts, and other official documents. Research the specific requirements and procedures in your country or state.
Preserving Wedding Memories
Take steps to preserve your wedding memories for years to come. Arrange for professional photo and video album creation, select your favorite images for framing, and create digital backups of all your wedding media. Consider preserving your wedding dress through professional cleaning and preservation services.
Financial Planning
Review your financial situation as a newly married couple and start planning for your future together. Discuss shared financial goals, create a budget, and consider meeting with a financial advisor to ensure a solid foundation for your married life.
Post-Wedding Celebrations
Consider organizing post-wedding celebrations or gatherings to extend the joyous spirit beyond the wedding day. This could include a casual brunch, a small dinner party, or a destination honeymoon. Celebrating with loved ones after the wedding allows you to continue the excitement and share your happiness with those closest to you.
Reflect and Relax
Take some time to reflect on your wedding day and the entire wedding planning journey. Enjoy quiet moments together as a couple, savour the memories, and allow yourselves to relax and unwind. This period of reflection and relaxation will help you transition into married life with a sense of peace and contentment.
Remember, the post-wedding activities are just as important as the wedding day itself. They provide an opportunity to express gratitude, tie up loose ends, and lay the foundation for a happy and fulfilling married life.
Break Down The Whole Process
12-18 Months Before the Wedding
Set a budget and determine your overall wedding vision.
Create a guest list and gather contact information.
Research and book the ceremony and reception venues.
Hire a wedding planner, if desired.
Begin compiling inspiration and ideas for your wedding theme and style.
Start looking for wedding attire for the bride, groom, and wedding party.
Research and book a wedding photographer and videographer.
Start exploring catering options and schedule tastings.
Begin researching and booking wedding vendors such as florists, musicians, and DJs.
Consider hiring a wedding officiant and discuss ceremony details.
Research accommodation options for out-of-town guests.
9-12 Months Before the Wedding:
Finalize your wedding guest list.
Order and send out save-the-date cards.
Book a wedding caterer and finalize menu options.
Book a florist and discuss floral arrangements and decorations.
Hire a wedding band or DJ for the reception.
Research and book transportation options for the wedding day.
Start shopping for wedding rings.
Begin planning your honeymoon and book necessary travel arrangements.
Schedule dress fittings and alterations for the bride and bridesmaids.
Decide on wedding favors or special touches for your guests.
Start researching and booking accommodations for the wedding night.
6-9 Months Before the Wedding:
Order wedding invitations and stationery.
Choose and book a wedding cake or dessert vendor.
Arrange for any necessary rentals, such as chairs, tables, or tents.
Finalize wedding attire for the groom and groomsmen.
Select and order bridesmaid dresses.
Begin planning the ceremony details, including vows and readings.
Arrange transportation for the wedding party and guests, if needed.
Research and book any additional entertainment or special performances.
Start working on your wedding day timeline and schedule.
3-6 Months Before the Wedding:
Send out wedding invitations.
Plan and book pre-wedding events, such as the rehearsal dinner.
Schedule hair and makeup trials for the bride and bridal party.
Finalize the ceremony and reception details with your vendors.
Meet with the officiant to discuss the ceremony script and any requirements.
Create a gift registry or update existing registry information.
Start planning your wedding reception layout and seating arrangements.
Arrange for any necessary wedding day insurance or permits.
1-3 Months Before the Wedding:
Finalize your wedding day timeline and share it with vendors.
Schedule final dress fittings and alterations.
Confirm details with all vendors and provide any necessary updates.
Attend any required pre-marital counselling sessions.
Purchase wedding accessories, such as shoes, jewellery, and veils.
Confirm accommodations for out-of-town guests.
Begin writing thank-you notes for gifts received early.
2 Weeks Before the Wedding:
Confirm final headcount with caterers and other vendors.
Create a detailed wedding day schedule for the wedding party and vendors.
Pick up wedding rings and ensure they are properly sized.
Pack for your honeymoon and make necessary travel arrangements.
Finalize seating arrangements and create place cards.
1 Week Before the Wedding:
Confirm all final details with vendors and provide contact information.
Have a final consultation with the hair and makeup artists.
Reconfirm transportation arrangements for the wedding day.
Provide the final guest count to the caterers and reception venue.
Prepare final payments for vendors and place in envelopes.
Wedding Day:
Get a good night's sleep and eat a healthy breakfast.
Get ready with your bridal party and enjoy the process.
Have the wedding party arrive at the ceremony venue on time.
Exchange vows and celebrate your marriage!
Enjoy your reception, dance, and mingle with your guests.
Capture beautiful memories with your photographer and videographer.
Cut the wedding cake and have a toast with your loved ones.
Thank your guests for celebrating with you.
Have a wonderful time on your honeymoon!
After the Wedding:
Send thank-you notes to all guests and vendors.
Arrange for the preservation of your wedding dress, if desired.
Review and select your favourite wedding photos for an album.
Share wedding photos and videos with family and friends.
Complete any necessary name changes or legal paperwork.
Reflect on your wedding day and cherish the memories.
Final Note
Congratulations on reaching the end of the Ultimate Wedding Guide! We hope this comprehensive resource has provided you with valuable insights, inspiration, and practical tips to plan the wedding of your dreams. From the initial stages of preparation to the post-wedding celebrations, we've covered every aspect to make your journey as smooth and enjoyable as possible.
Remember, your wedding day is a reflection of your love story and personal style. Embrace the planning process and allow yourself to infuse your unique personality into every detail. Whether you're opting for a traditional ceremony or a modern celebration, the key is to create a memorable experience that captures the essence of your relationship.
Throughout this guide, we've explored various elements, including themes and styles, attire and beauty, ceremony and reception ideas, photography and videography tips, stationery and invitations, as well as post-wedding activities. We've provided helpful resources, checklists, and guides to assist you every step of the way.
As you embark on this exciting journey, surround yourself with a supportive network of friends, family, and trusted wedding vendors. Seek advice when needed, stay organized with our wedding planning tools, and remember to enjoy the process. This is a time filled with anticipation, joy, and love.
Your wedding day will be a culmination of all your efforts, a day filled with love, laughter, and cherished memories. From the exchange of vows to the celebration with your loved ones, embrace every moment and savour the magic of this extraordinary occasion.
We wish you a truly magical wedding day and a lifetime of happiness together. Cheers to your love and to the beginning of an incredible journey as a married couple!
P.S. If you want some more value, explore our wedding photgraphy gallery.
You can also find us on the social links below.